KOLKATA: In the next two years, residents of large areas in
Beliaghata
and its adjacent neighbourhoods such as Palmerbazar, Canal East Road and Canal West Road, and some areas off EM Bypass will have access to safe drinking
water
.
Kolkata Municipal Corporation (KMC) has taken up construction of a water reservoir and booster pumping station for residents of these areas who still depend on ground water. Apart from supplying potable water to large areas under Ward 57, the booster pumping station will put an end to water scarcity in several parts of Beliaghata which fall under wards 35 and 36. According an estimate by KMC water supply department, the proposed reservoir and booster pumping station will cater to drinking water needs of around 50,000 people. According to a KMC official, the construction will be over by the end of 2022 for which the civic body will need to spend Rs 22 crore.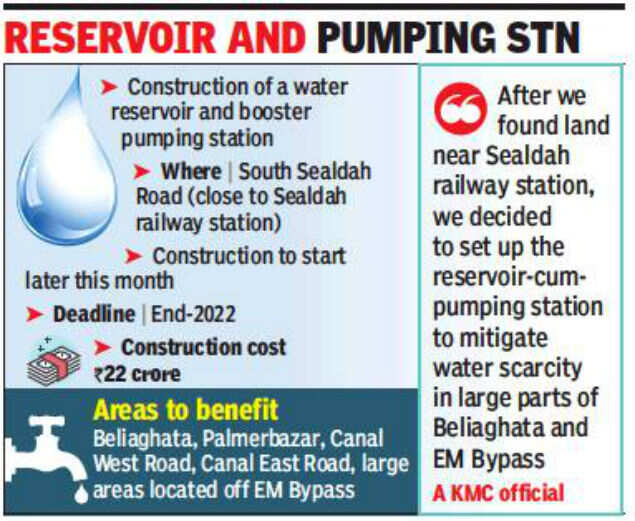 "We had long been searching for land for construction of a water reservoir and booster pumping station which will replace ground water in large areas of Beliaghata and some parts of EM Bypass. After we found land near Sealdah railway station, we decided to set it up to mitigate water scarcity in large parts of Beliaghata and EM Bypass. Residents staying on both sides of Canal East Road and Canal West Road will also get benefitted," a KMC water supply department official said.
The booster pumping station will also replace tube-wells and thus restrict use of ground water which has fast been depleting. "Several large housing complexes in Beliaghata and in areas off Bypass under three KMC wards are still drawing ground water. The project will take potable water to the residents of these housing complexes and at the same time augment supply of water," said a KMC water supply department official.
Ashok Gupta, a resident of a housing complex in Beliaghata, felt the construction of the booster pumping station would benefit hundreds of residents of the housing complex.
https://apps.entranceindia.com/wp-content/uploads/2019/09/flag.png
0
0
wPDjBxImpm
https://apps.entranceindia.com/wp-content/uploads/2019/09/flag.png
wPDjBxImpm
2020-09-10 14:40:55
2020-09-10 14:40:55
Kolkata: Safe drinking water hope for 50,000 Beliaghata residents | Kolkata News