KOLKATA: Action groups working in the area of mental health, depression and suicide prevention have given the 'Go Yellow' call on Thursday and urged Kolkatans to step out wearing the colour to reflect the sunshine, share hope and give life another chance.
Every September 10 is observed worldwide as
Suicide Prevention Day
. But this year is significant as the pandemic has pushed people to depression. Lifeline Foundation that offers emotional support to callers who may be depressed, distressed or suicidal has during the pandemic seen a 60% jump in calls and nearly 100% increase in callers who feel suicidal.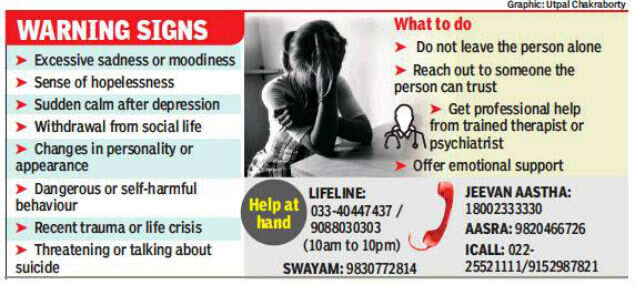 Between April and August, 48 suicides have been reported from the city, said Kolkata Police.
"Before the pandemic, we received calls from people who faced a myriad issues. But the situation turned more complex during lockdown. There were financial issues, job losses, insecurity about future, sharing of laptop, lack of space and privacy. Even regular issues became more frustrating. There was self discovery and self degradation. There were also families that were separated due to the lockdown," recounted Lifeline Foundation deputy director Manjit Lachwani. Not only has the calls to Lifeline increased in past five months, duration of calls have also increased from 15-20 minutes to 30-35 minutes.
At Swayam, a women's rights organization, mental health consultant Chandana Bakshi saw suicidal ideation among callers spike as women faced domestic violence and social isolation during lockdown. "Suicide is not just a mental health issue. It is a social one as well. There are three types of people who feel suicidal: those who suffer from acute depression; those who are unable to deal with certain situations and those for whom reality is impaired. Social isolation during lockdown aggravated condition of all three categories," she said.
Calling on people to wear yellow on Thursday, singer Usha Uthup said the city needed to express its support to those who suffered from mental illness.
https://apps.entranceindia.com/wp-content/uploads/2019/09/flag.png
0
0
wPDjBxImpm
https://apps.entranceindia.com/wp-content/uploads/2019/09/flag.png
wPDjBxImpm
2020-09-10 15:26:32
2020-09-10 15:26:32
During lockdown, helplines record spike in number of suicidal callers in Kolkata | Kolkata News